WordPress or Wix? Many people who want to start a website are faced with this choice.
You hear that many people use WordPress, but others recommend Wix.com, a content management system where you can create websites for free, without programming.
To clarify: this is the WordPress.org version. WordPress.com is similar to Wix. For more details, read the article WordPress.com or WordPress.org, the ultimate guide.
We will list the advantages (and disadvantages) of both WordPress and Wix for you.
WordPress or Wix
Whether you choose WordPress or Wix depends entirely on what you want to achieve with your website.
Let us look at the difference between the two on the basis of different criteria. After that, you may be able to make a good choice to build your website.
Price
Both content management systems of both WordPress and Wix can be used for free. WordPress can be downloaded free of charge and then installed with your hosting party.
At Wix, you can also sign up for free at Wix. But the disadvantage is that you get a website with advertising. Both at the top and bottom of the website is a button to Wix.com. For example, if you want your own house style, that's not recommended.
If you don't want any advertising, you have to switch to a paid version. Depending on the features you want, you pay 5 to 25 euros per month.
In this way, the cheapest variant does not have its own domain name and limited storage space.
WordPress is also free and allows you to add many more features. However, you still have to buy a subscription from a hosting provider at WordPress. Often you can already arrange cheap hosting for a few euros per month.
User-friendliness
This is a big plus for Wix: it's more user-friendly than WordPress.
It's led through a sort of menu to build a website. In a few minutes time! I tested that myself for a moment. This is how it works:
1. Login to Wix
Fill in your email and password and you will have access.
2. Choose a website
You get an overview of which website you want to build.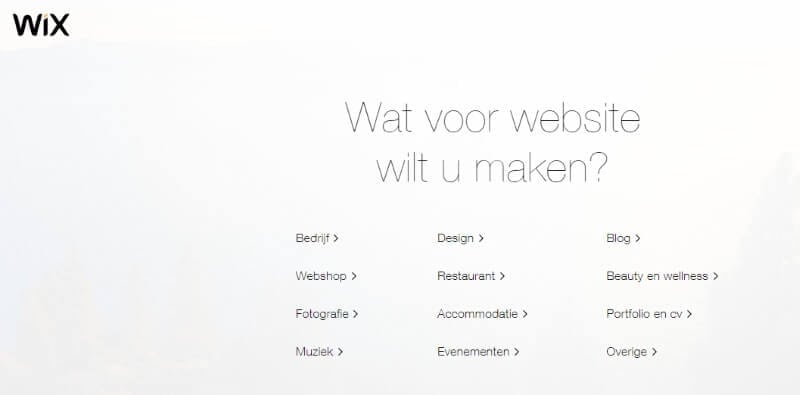 3. Choose a template
You can choose from different templates for your website. With 1 click on the button, you can set it up.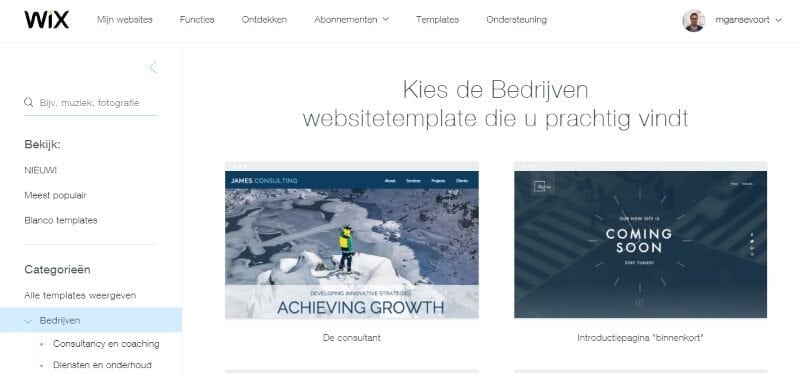 4. Use the editor
Then you can customize the website to your liking with the editor of Wix.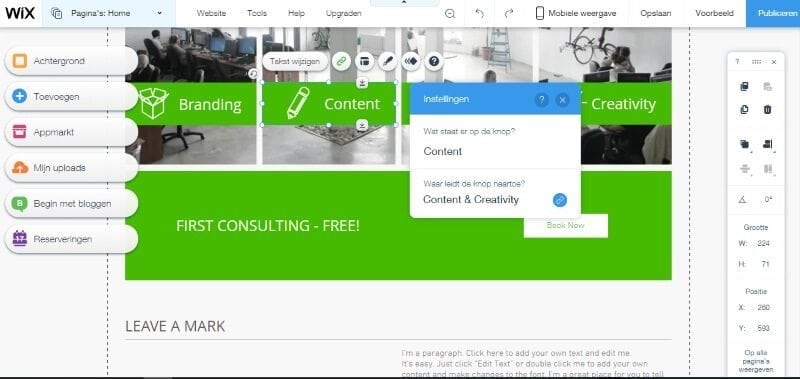 5. Publish
Finally, you can publish your website.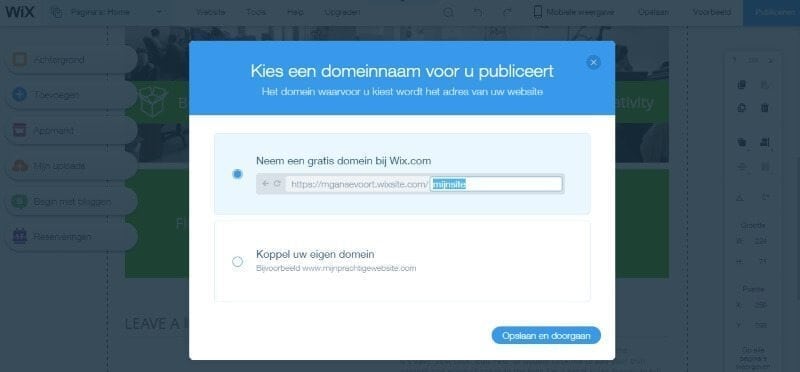 A piece of cake, then. I have to say it is very user-friendly. Most of the time you have to spend adding photos and texts.
The editor of Wix is also easily accessible. You can easily edit text in the existing layout or delete and add photos again.
WordPress is a bit trickier to install. You first have to download it, then install it and then add all kinds of plugins.
Nowadays, however, it's becoming easier to install WordPress.
Many hosting parties have separate WordPress hosting. You can, therefore, install WordPress automatically with a click and already have access to the website.
WordPress wants to be accessible to everyone and its mission is to become increasingly user-friendly. Also for digital betting.
One of the developments is the Gutenberg editor, a new editor that will be integrated into WordPress in 2018.
Flexible
WordPress is much more flexible than Wix, which is one thing that is certain. With WordPress, you can build almost any website you want. From a directory website to a community.
The big advantage of WordPress is that you can add unlimited plugins yourself to add more functions to the website.
To give you an idea: these are the sixty best plugins of the moment. But there are thousands of plugins you can build anything with.
When you learn to build a WordPress website yourself, a world opens up for you. So many possibilities!
But of course, you can also leave it to a real website builder, who will build the website for you.
Layout
Wix has hundreds of fixed templates to choose from. There is always one that will appeal to you.
But… you can't use Wix to create a custom website. You are always bound by the options they offer you. The possibilities for adjustments to the layout are limited
With WordPress, you can. WordPress also has templates to choose from, such as ThemeForest. These templates have more flexibility and can be customized to your heart's content. But you can also build a website from scratch and completely customize it to fit your own layout and appearance.
SEO
WordPress is highly regarded as a content management system by search engines such as Google.
In addition, there are many opportunities to improve the findability in the search results (SEO). There is the SEO Yoast plugin, which allows you to manually optimize the entire website, but also each individual page or message.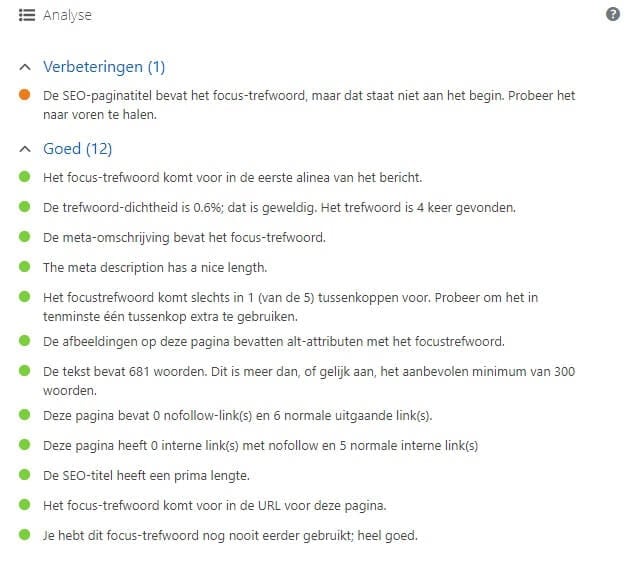 Wix websites can also be optimized, but only to a limited extent.
You'll never win from a well-optimized website built with WordPress.
There is also the rumor that Wix pages are shown less high in the search results. But that's a rumor…
Security
An important part of a website is security. WordPress can be secured in a variety of ways.
But you have to do all that yourself. You will need to install plugins and configure the options.
The themes and plugins of WordPress are sometimes sensitive to hacking, which allows malicious parties to enter or even take over your website.
But if you take the right precautions, the chance that your WordPress website will be hacked is very slim.
Wix has a closed system and already has a security layer around your website by default. It is not easy to break through this security.
You hardly ever hear that a Wix site has been hacked. In that respect, Wix is ahead of WordPress.
Conclusion
If you want a custom-made website, then the choice is easy and you choose WordPress.
But if you don't want too much hassle, and you don't have high demands on findability, then Wix is the best option.
Choosing for WordPress or Wix, it is an important moment to reflect upon. You're – probably – stuck to the website for a few years, so it's important to think carefully about your choice.
It is also not so easy to switch quickly from Wix to WordPress (or vice versa); often you have to rebuild your website from scratch.
I hope I've been able to make your choice between WordPress and Wix a little clearer.
I myself have a preference – but you already knew that – for WordPress. It simply offers more opportunities if you want to grow on a personal level or with your company.
Then you also want a website with which you can grow further.