Recently I was at a WordPress Meetup, a meeting where WordPress users meet and exchange knowledge with each other. A WordPress Meetup is a local meeting for WordPress enthusiasts that is held once in a while.
It was the first time that the WordPress Meetup in Leiden. And it was an immediate success because more than 50 WordPress enthusiasts registered.
Initially, the meeting was planned in a living room in the Stevenshof neighborhood, but due to the great interest, organizers Monique Dubbelman and Rian Rietveld went to De Plek, a pleasant working environment for entrepreneurs and self-employed people in Leiden.
And the participants did not only come from Leiden, but also from The Hague, Amsterdam and even Utrecht.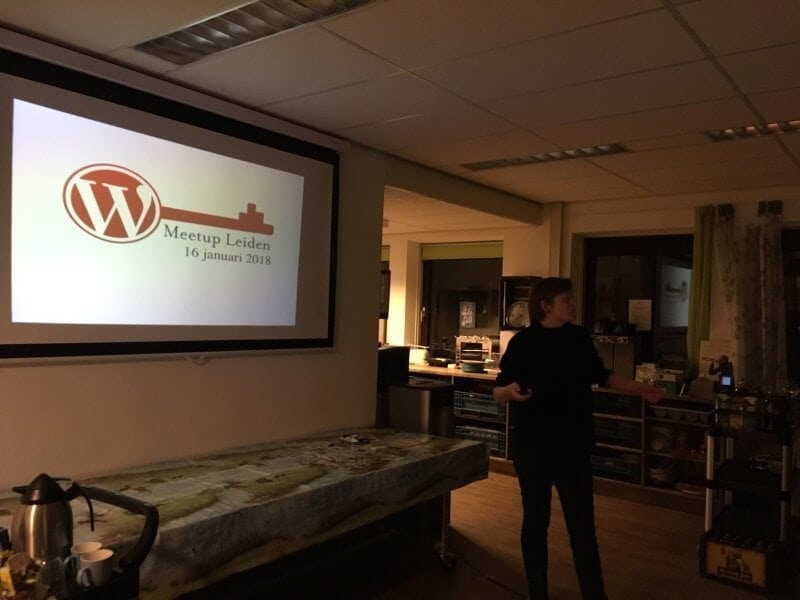 The meetup Leiden is about to begin! [Photo: Monique Dubbelman]
A piece of history…
Since the beginning of its existence (2003), WordPress has built up a large number of followers. The content management system is for free and everyone can help to improve it. As a result, a large community has been created over the years, and the need to exchange knowledge with each other has also grown.
In 2004, the founder of WordPress, Matt Mullenweg, started his first meetup:
Since then, hundreds of meetups have been held all over the world. From Albuquerque in the United States to Udaipur in India. Over the years, there have been around 800 meetups worldwide. A WordPress meetup is announced via the community van WordPress. There you will find an overview of all the cities where meetups take place and you can then register there.
The content of a meetup is quite different. Sometimes a few speakers are invited to tell something about their field of expertise.
But there are also meetups with a workshop, question time or where a new development within WordPress (for example Gutenberg) is discussed or tested. The participants then take their laptop with them and start testing, experimenting, etc. during the meeting.
WordPress Meetup Leiden
Two speakers were invited in Leiden. Eva Westerhoff talked about how to make websites more accessible. She is deaf and knows better than anyone that people like her can have problems visiting websites. That you can't listen to videos, for example.
Eva told us during the meeting what you, as a website builder, have to pay attention to in order to be able to serve this target group better. She gave tips & tricks that are also good for your SEO. Such as subtitling your videos or using the right color for your website.
Lawyer Janneke Boerman, the founder of MetRechtHelder.nl, told about privacy legislation, and how that affects website owners and web builders. As from 25 May 2018, entrepreneurs will have to comply with the new privacy legislation, which is laid down in the General Data Protection Regulation.
Website builders and website owners must carefully store customer data. Anneke told the audience how best to deal with this and gave good tips.
After the presentations, there was an opportunity to talk to each other during the drink in a relaxed atmosphere. If, for example, you have additional questions for the speakers, this is a good opportunity.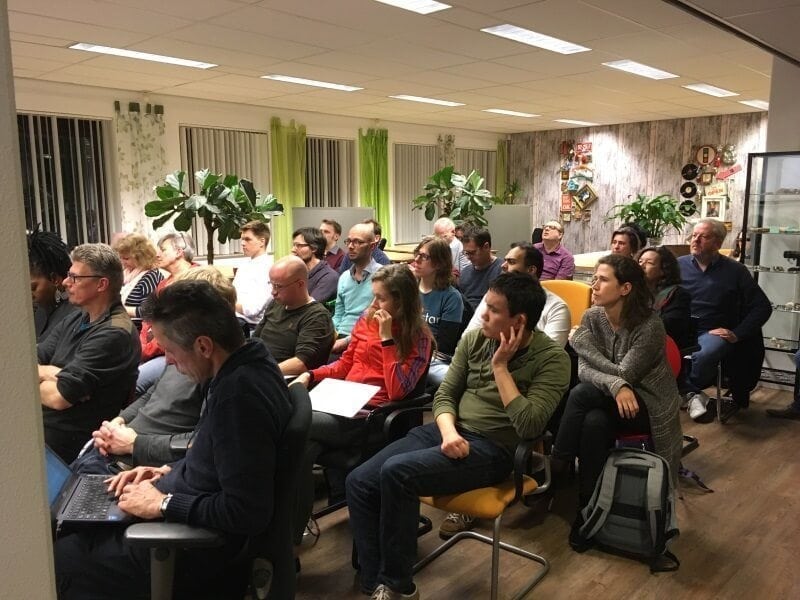 People are listening attentively… [Photo: Monique Dubbelman].
The dates and cities where WordPress meetings are held are listed on the official WordPress website. You first create an account and then you can register for the meetup.
You can also see who else has registered and what their profile is. Be there on time, because such a meetup can be 'full' in no time.
In addition, the upcoming (local) WordCamps and Meetups are now also listed on the WordPress dashboard in WP-admin.
WordCamps
Besides the many local meetups, there are also larger events about WordPress, the WordCamps. This is a multi-day meeting that brings together hundreds of WordPressers from around the world once a year.
Dozens of speakers then give presentations about their field of expertise, from security to the latest developments in web development. During this worldwide WordCamp, founder Matt Mullenweg will also be present, who will be telling his annual 'State of the Word'. In this speech, Matt shares his thoughts and ideas about what has been achieved with WordPress and where it is moving towards in the future.
I personally went to the WordCamp Europe, which was held in 2013 in Leiden. For two days there were many lectures and presentations about WordPress and all its facets. There you met the cream of the WordPress community, including organizations and companies that do things with WordPress.
And that industry has become big. According to Matt Mullenweg, there are now more than 20,000 people who earn their living with WordPress.
These WordCamps are generally for the more experienced WordPress user. During these days there are also meetings, where developers get to work together, the so-called hackathons.
'But the WordCamps are also for inexperienced visitors,' says Monique Dubbelman. 'We are seeing an increase in participants of all kinds, from bloggers to developers. There is usually sufficient offer for all levels.'
Conclusion
WordPress has only been in existence for 15 years, but in that time it has become the most important cms in the world. And it is still growing. Because an increasing number of people are working with WordPress instead of similar systems like Joomla or Drupal.
The popularity is partly due to the WordPress Community; the people who (often selflessly) dedicate themselves to improving and distributing WordPress. On the meetups and WordCamps, they come together. We must continue to cherish that.