Do you also have problems with spam on your website?
It is a frequent problem for many website owners. I myself don't have that much trouble with it, but I have installed enough protection on my websites.
But I once helped a customer who received a daily amount of between 10 and 20 spam emails. Very annoying if you don't know exactly where it is coming from. I then had to take different types of measures to reduce the spam for her. And eventually this was successful.
Spam on your website
You can't always prevent spam on your website. Everyone receives a spam email through their website once in a while. Especially if your website grows and becomes popular, spammers will know how to find you. The only thing you can do in this case is mark the email as spam directly, after which the message will be removed. WordPress will then also know for next time that this is a spam message, and immediately place in in the spam folder.

But when the spam becomes structural, you might need to take bigger measures. There are enough plugins to prevent spam on your website. I will give you three plugins to prevent spam.
1. Akismet
One of the best known plugins to prevent spam is Akismet. It is made by Automattic, the creator of WordPress and is a simple way to prevent spam. There is also a paid version, but if you have a non-commercial website, you can use it for free.
After activating the plugin, you will see the following at the top of your cms: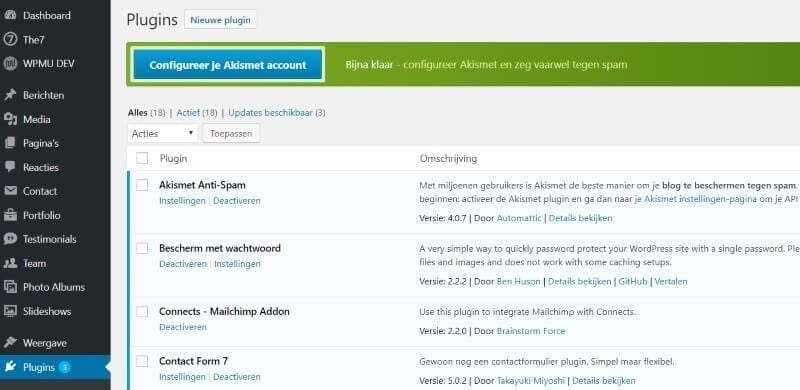 Press on 'configure your Akismet account' and you will see the following screen: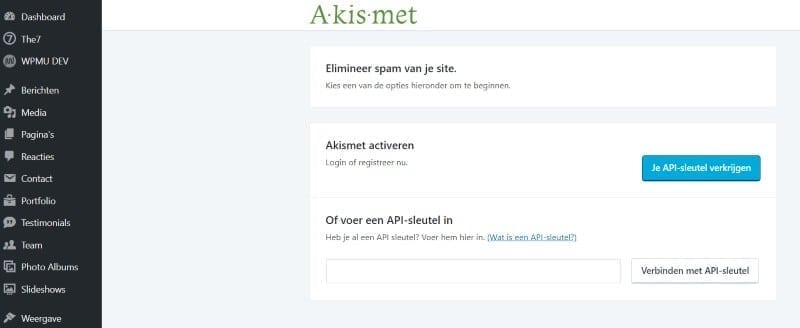 If you don't have a API key yet, than you can apply for one through akismet.com by filling out an email address and a password. It shows itself how to do it.
Once you have received the API key , you can fill it out at the top. Also take a good look at the checks. I would recommend to silently remove the worst spam and to check the privacy notification. Because when someone leaves a comment. they need to be aware of the privacy policy.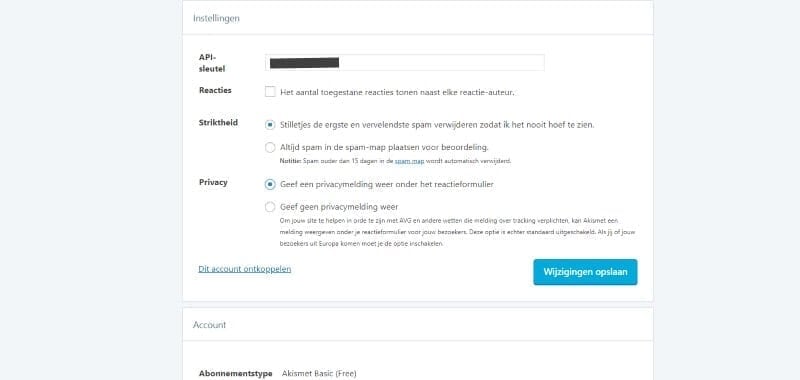 After this, save all the changes and you are now very well protected!
2. Antispam Bee
Antispam Bee is one of the best plugins in the market to prevent spam. With over 300.000 downloads this free plugin is a master to keep spammers at bay. First you need to install this plugin. I have also written an article about this: installing a WordPress plugin on your website.
After this go to the Antispam Bee settings: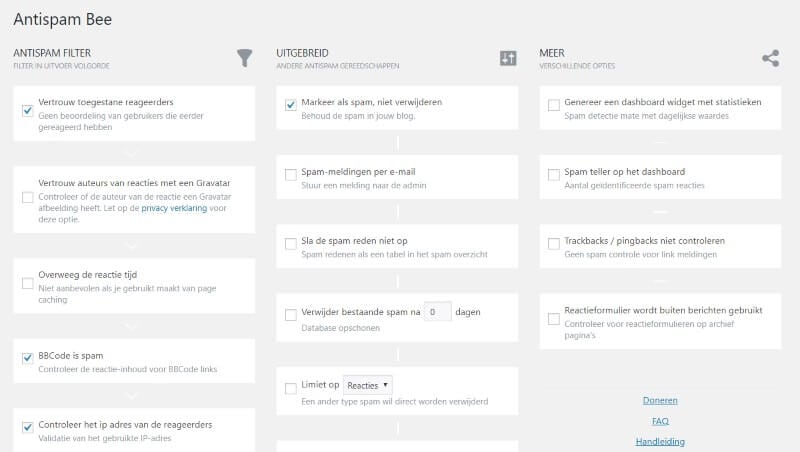 You will instantly see that there are a lot of settings to help you reduce spam. There is for example the option to ban spam from certain countries/languages. But make sure you are not too strict with the settings, otherwise you run the risk of not receiving any messages at all.
The great thing about this plugin is that everything is in Dutch.
3. CleanTalk
A third plugin which offers good protection is CleanTalk. This one has been downloaded more than 100.000 times and also has a lot of good reviews. Besides stopping spam at the comments this plugin als stops fake registrations and orders of for example WooCommerce. CleanTalk can be used for many other integrations, like the e-mail marketing program MailChimp
Conclusion
Most of the spam messages are caused by socalled bots. They automatically place a message on a WordPress website. But the above mentioned plugins recognize these bots and can prevent that they place a massive amount of spam messages on your website.
Although spam can't be banned completely, you can do a lot to reduce it.
Often a combination of measures is the best thing. So try out different plugins.
You will sometimes see that one plugin will give results and the other doesn't.
Good luck!