Do you want to translate your website into multiple languages with WPML? This would seem like a good moment because the world is becoming more and more international. The world is at your feet…
Products and services you sell in the Netherlands can also very well be sold abroad. And vice versa more and more companies are introducing their products on the Dutch market.
If you have international ambitions, then it's good to translate your website into multiple languages such as English, French or Spanish. And why not Rumanian or Portuguese?
International companies, government institutions, but also a lot smaller organizations are translating their website into different languages more often. Google Translate is often used to translate, but this is still not a serious option. The quality is often not acceptable for most organizations.
With WPML you basically create double pages, one in Dutch and one in the other language. You will need to enter the foreign language manually.
WPML plugin
Nowadays there are different good translation plugins on the market which you can implement in WordPress. Think of Polylang, qTranslateX or WPML Multilangual plugin. This last one is an often used plugin to translate websites. I will show you how you can use WPML to translate your website.
In contrast to the other mentioned plugins, you can't download WPML in the WordPress catalogue. You can only download WPML through their own website against payment. For 1 website you only pay a few tenners. It is an often used plugin which is also recommended by ThemeForest themes.
You should know it is quite a heavy plugin which can influence the loading speed of your website, but this is something that applies to most translation plugins. If you are not satisfied with it, you can always use the '30 day money back' guarantee.
You don't want to pay for a translation plugin and you are looking for an alternative? Then I will give you a couple of suggestions in the article The best 5 translation plugins for your WordPress website.
I use the WPML translation plugin myself and my customers and for my own website which I have completely translated into English. I find it a nice plugin and you can basically translate any text on the website with it. The plugin has not been installed on roughly 500.000 websites for nothing. It is the most popular plugin at this moment.
Well, how does it work to translate your website with WPML? Here we go…
Download WPML
First you go to the WPML website to download the plugin. You can choose from three different subscriptions. The cheapest is only a few tenners, so that's ok for a website.
You need two plugins from WPML, Multilingual CMS and String Translation. Then you install the plugins and activate them.

Then you will see a wizard in the dashboard with which you can install the WPML plugin step by step.

After you have clicked on 'set up WPML' you will see: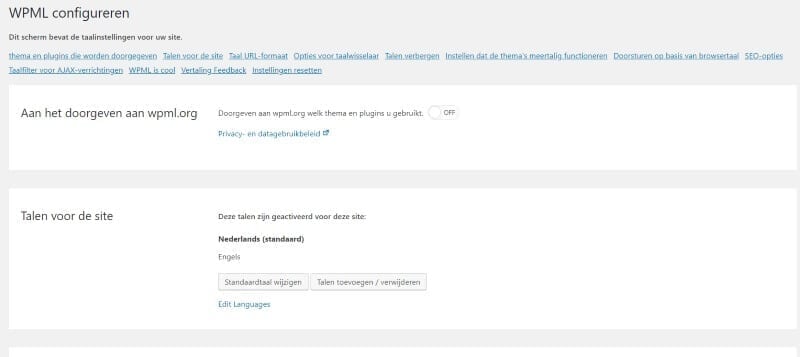 You need to for example choose the language into which you want to translate the website:

You check off English and then the website can be translated into English. This way you can add more languages if you want to.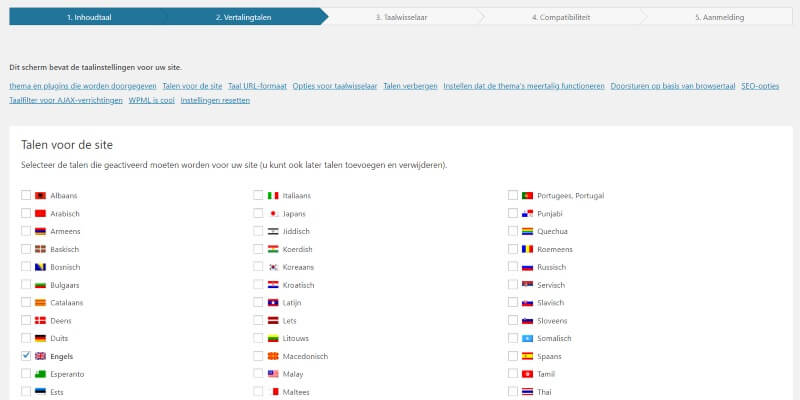 Wizard, you will get the question at the end to add a registration key. You can get this by logging on with WPML. At 'My Sites' you can collect the key and connect it to your website: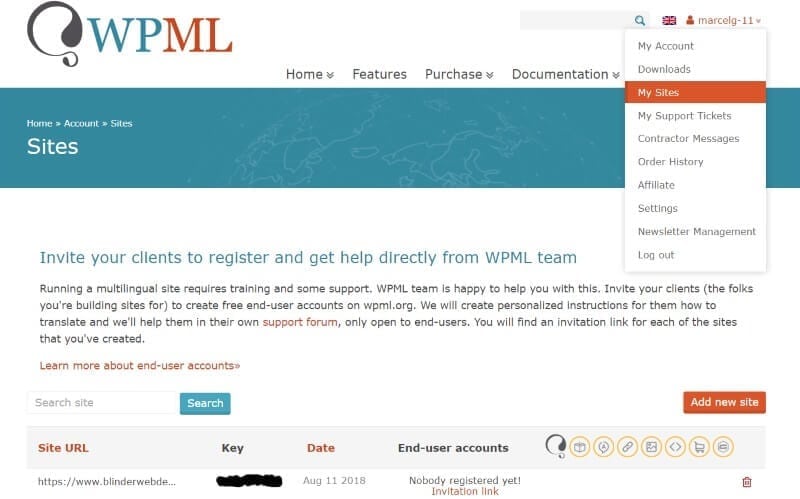 Translate a website into multiple languages with WPML
Great, the website is now connected and you can start with translating your website into multiple languages with WPML. You go to a Dutch page and in the right column a separate block with 'Language' appears. You press on the plus (see red arrow) and you will land on a new page. This is the page you can provide with English text.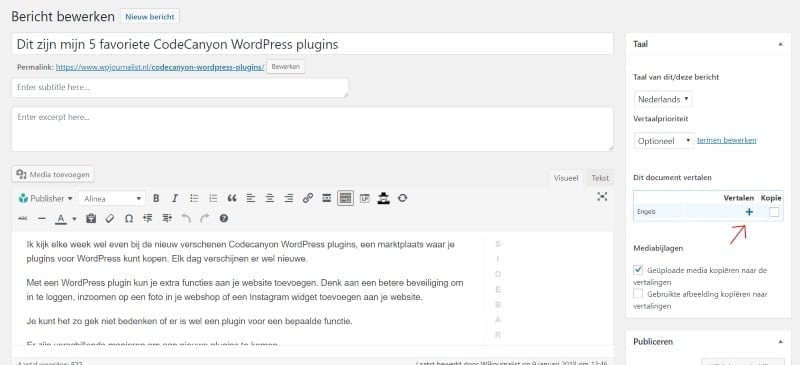 You will land on an empty page and then you add the English text. Headers, text, but also the images need to be added again. This is quite some work.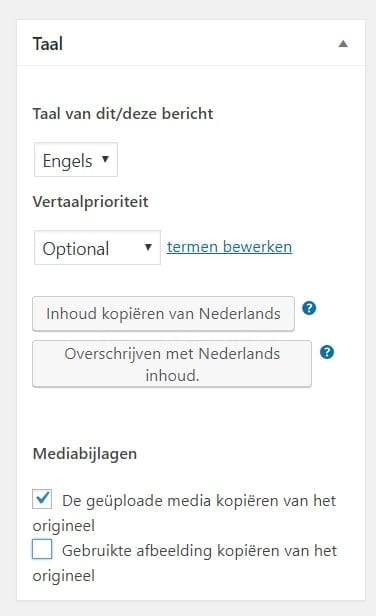 It is best to do the following:
First I am going to copy the text from the Dutch to the English page. This ensures the images are automatically placed on the English page.
It goes like this:
You check off the following:
Copy uploaded media from the original
Then you click on:
Copy content from Dutch
Then all Dutch text and images are copied. You can then remove the Dutch text and replace it with the English text. So the more advanced copy and paste work.
You leave the images. You could optimize the images by adding an English Alt-tag to them. This way you ensure that the images are optimized with SEP for the English language.
AND: Don't forget to change the internal links to other articles within your website into the English URLs.
Finally you need to add the meta description and the focus keyword in English to optimize the site.
And then it looks like this:
Then you click on publish and your page is now in two languages. And this way you go through all the articles you need to translate.
Translate pages
You translate the pages the same way. But you need to consider that nowadays, page builders are often used, which create your page with blocks. So you also need to copy the blocks from these page builders to the English page. I will show this frontpage as an example: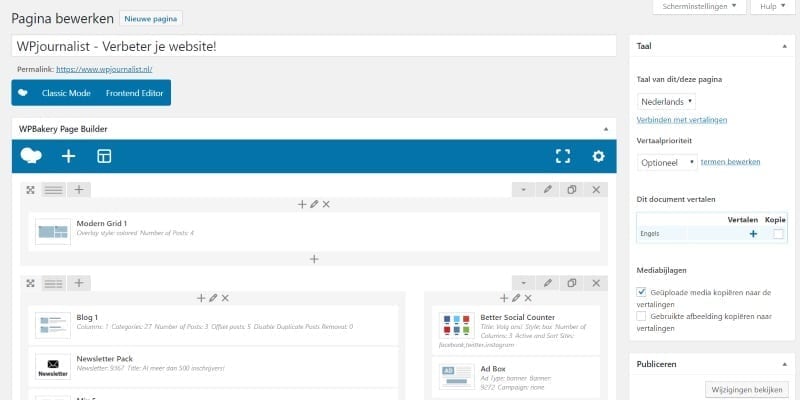 Here you can see the block elements in the page. You can also copy the content from the page builder by clicking on:
Copy content from Dutch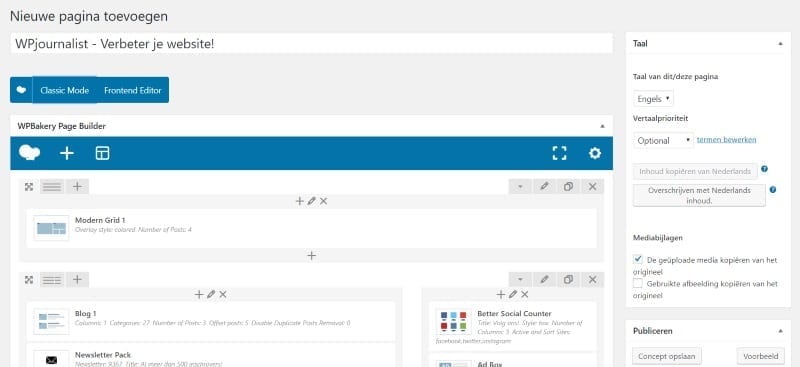 And then you add all text and images and finally you add the SEO of this page in English.
Now there are a few specific things you need to translate with WPML, like the categories. You do this by going to:
WPML > Taxonomy translation.
You go to the categories. And then you click on the plus again to translate the categories: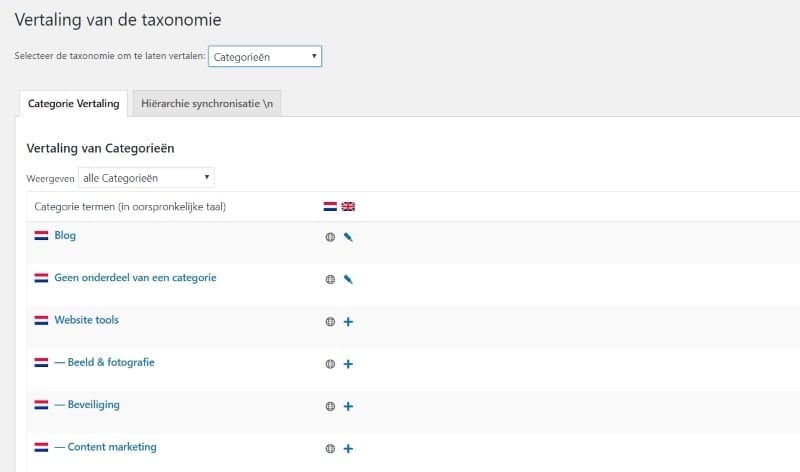 Also the menu needs to be translated. You click on the plus in the right upper corner or on 'English'.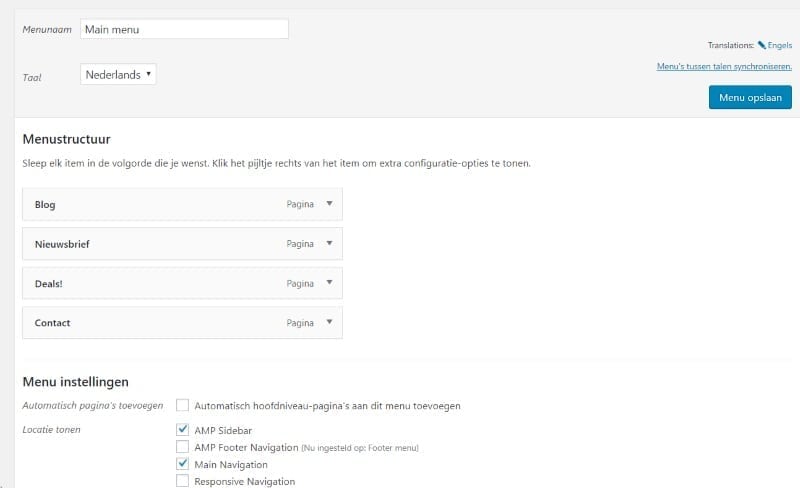 Then on the left side you can add the English pages to the menu: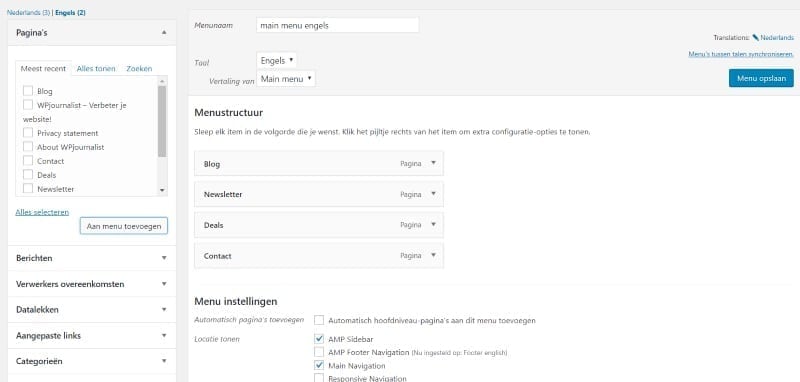 Also make sure you check off the right menu settings.
String translations
Not all texts on a website are easy to translate. This is why there is a function in WPML, the string translations, which make these texts visible so you can translate them.
With string translation you can translate specific sentences. You go to:
WPML > string translations
And then you look for the specific sentences you want to translate. For example the sentences that are in a widget. Or in the footer.
This way you can for example translate the header 'Volg ons' into English. Below you can see how this works. You fill out the translation, check off 'translation completed' and then click on 'save'.

It sometimes varies how you can translate parts of your website. I couldn't translate the contact form into English through the string translations. Then you need to be a little creative.
I've made a new contact form in English and then added the form's code onto the English page. So like this: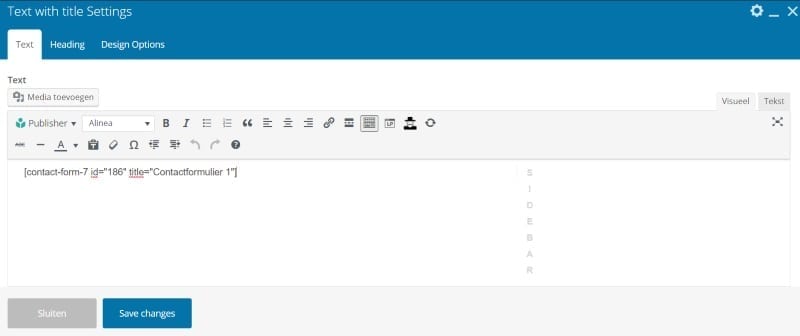 to: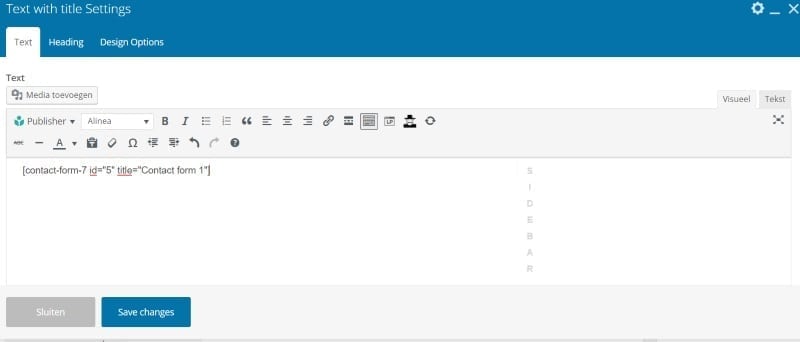 After you have replaced the code you will see the English contact form on your website.
Conclusion
Translating a website into multiple languages with WPML is an excellent option. A large team is continuously working on the development of WPML so you can count on it that it is a good plugin. Always try to find out first if the plugin is compatible with your theme. Often the theme's creators will indicate this. On the ThemeForest website there are a lot of themes which are compatible with WPML.
In most cases you can translate a large part of the website with WPML. Please note: sometimes it is not possible to translate the website for 100%. It's not you, it's the translation plugin. The plugin for example can't trace certain sentences and so they can't be translated.
Also make sure you optimize the website with SEO. Once Google has picked up on that, you can expect a large increase in numbers of foreign visitors.
You have the world at your feet…

WPML multilanguage plugin
The The WPML (WordPress Multilingual Plugin) ensures that your website can be translated in multiple languages. You can add other languages in no time, so that you can better serve a larger target group or your foreign customers. View the offer