I've been a fan of the keyword tool Ubersuggest for a while now. You may not know it yet, because it is a relatively new online tool to do keyword research.
Most people probably know the keyword planner from Google. However, nowadays it is quite difficult to use it because you need a Google Ads account to use it.
With Ubersuggest this is not the case, it is free and accessible to everyone. And it's also a very user-friendly keyword planner that's easy to use.
Neil Patel developed Ubersuggest a few years ago, but especially in the last year, it has been expanded with all kinds of functions. He is one of the best-known SEO specialists in the world and writes a lot about SEO, social media and content marketing in his popular blogs.
What is Ubersuggest and what can you do with it? That's what I'm going to tell you in this article.
What is Ubersuggest?
If you want to be found better in Google, it is advisable to do keyword research. After all, people enter keywords to find something. If you score high on a particular word or combination of words in the search results, you will attract more visitors to your website.
And so the trick is to find the right keywords, which are often searched for. For example, I score high in the results with 'making videos' or 'WordPress plugins'. I'm number 1 in the search results in Google on both keyword combinations. As a result, these articles are frequently visited.
Ubersuggest is a free tool that helps you find the right keywords. You can see which keywords score well and which are not yet used by other competitors. But the online tool has many more great features, which I will tell you below.
Advantages Ubersuggest
In a relatively short period of time, Ubersuggest has become a solid competitor of the existing tools for keyword research. And that's quite impressive. This is no coincidence because Ubersuggest has a number of advantages over other keyword planners.
Ubersuggest is free (still…). You don't have to subscribe or register for this tool. Competitive tools like Semrush or Ahrefs start their subscriptions with 100 euros per month. That's quite a difference!
It is a very user-friendly tool. Everything is aimed at supporting the novice website owner who does not yet have much knowledge of SEO. This is evident from the many explanations Ubersuggest gives and its accessibility for beginners. Here's an example of how Neil is trying to do that:

The tool is also accurate compared to the other tools. Ubersuggest uses the data from Google's keyword planner, so it has all the data first-hand.
The tool is in Dutch!
How does Ubersuggest work?
First you go to the Ubersuggest website (which is part of Neil Patel's website) and you will see the keyword window. Here you can enter the keywords.

You can enter a domain name or a keyword. First I choose a keyword: WordPress websites. You can of course type in other words yourself (in your own field), of which you want to know how much they are looking for. Then you get the following overview: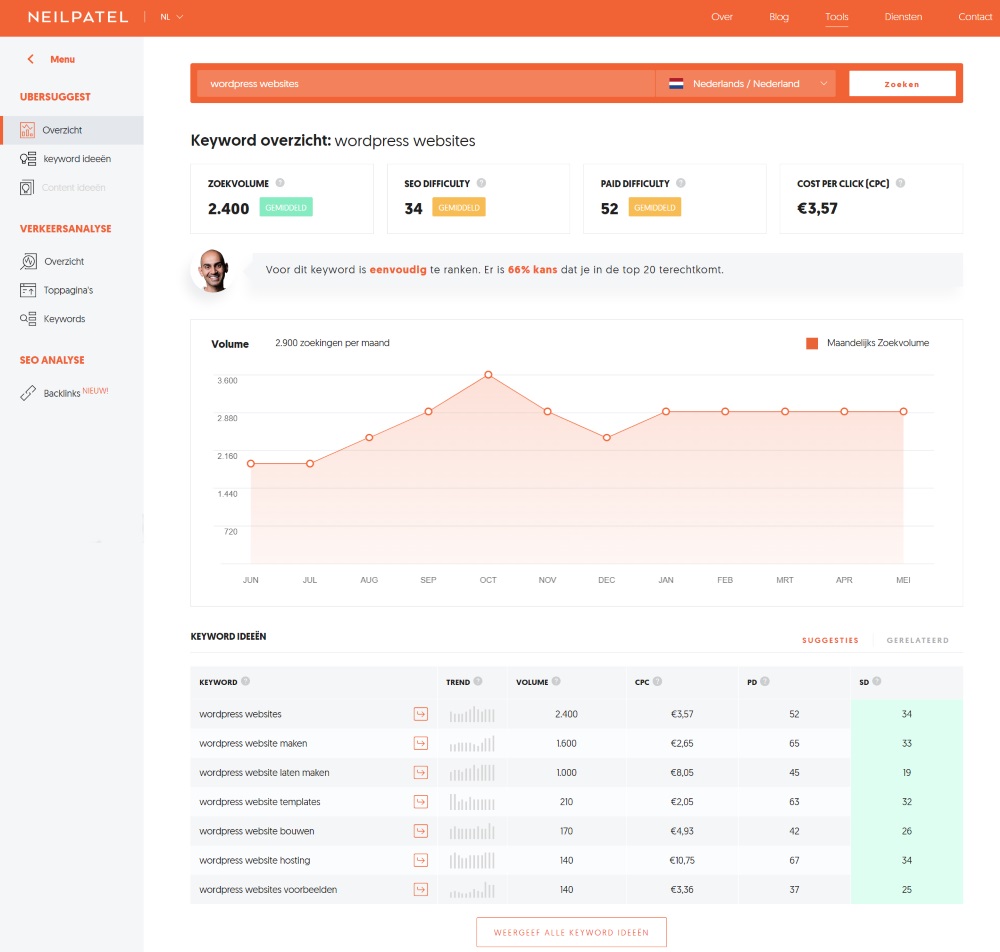 At the top are the following data:
Search volume: number of times this keyword is entered per month.
SEO difficulty: how difficult it is to get high in Google's search results.
Paid difficulty: how difficult it is to score high in Google based on paid advertisements.
Cost per click: what it costs per click if you advertise this keyword via Google Ads.
Below that you can see in a statistic how many searches there are per month of that keyword.
Finally, below is a list of keyword suggestions you can use. If necessary, you can also go to the related keywords.
Keyword ideas
You can also see the 'keyword ideas' in the navigation bar on the left. If you go there you will see the following overview: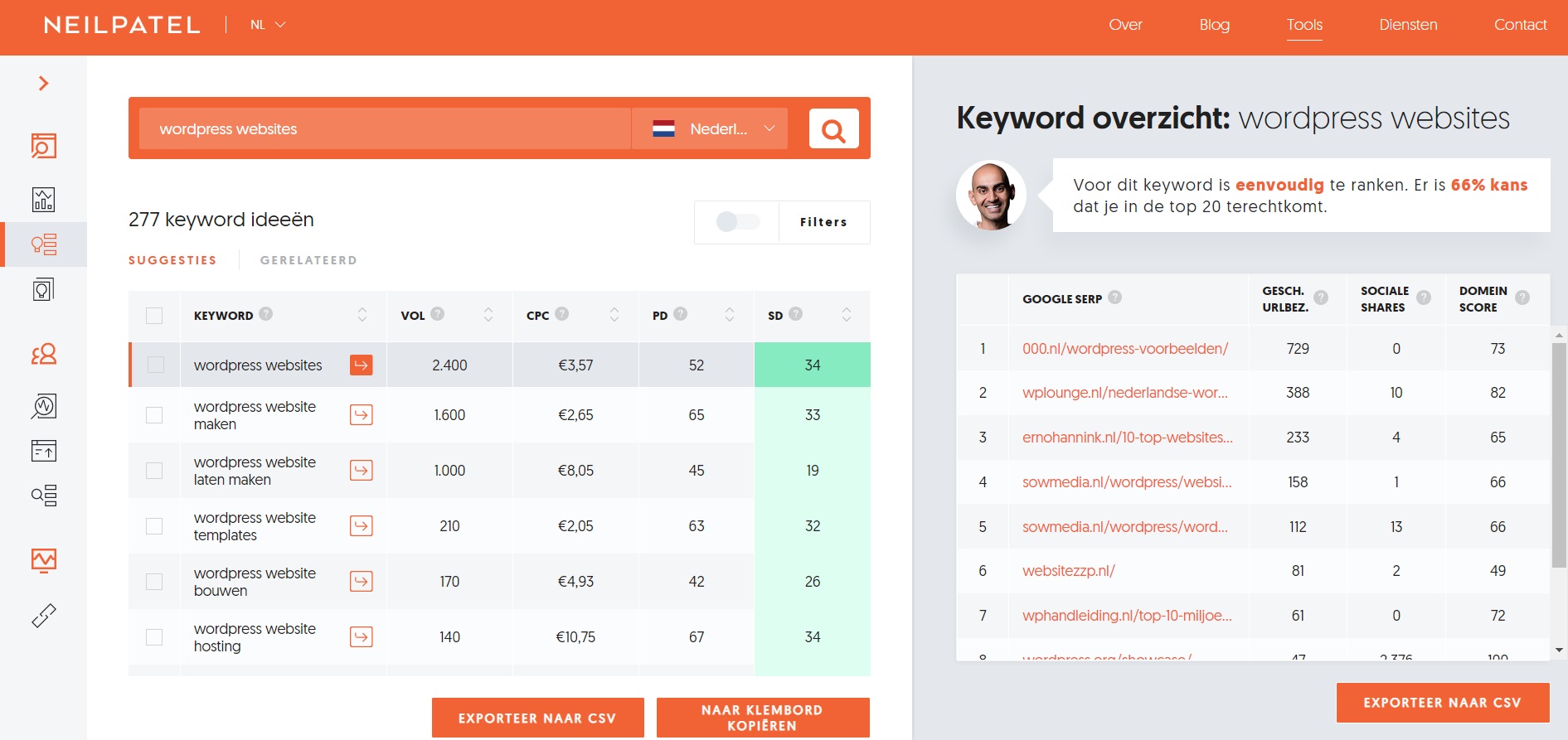 Now you can see for each keyword combination how other websites score on that keyword. For example, the website of ooo.nl scores very well on the keyword 'WordPress websites'. The estimated number of visits to a page, the number of social shares and the authority of the website are listed below. And so you can go through all the keyword ideas and get a good idea of how the competition is doing.
Traffic analysis
Aside from keywords, you can also check your own domain in the traffic analysis (shown in the navigation bar on the left).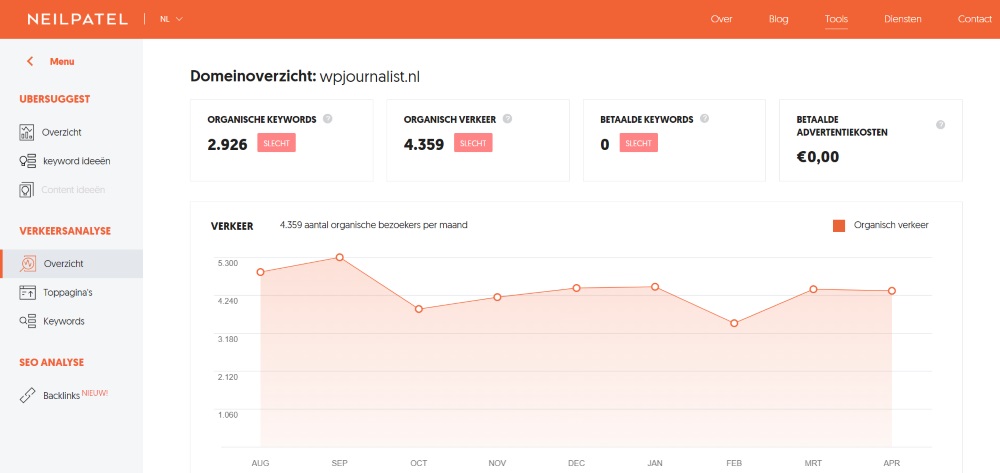 In this overview, you get all kinds of information as to how your website scores. Above is the number of visits you get per month. Under the statistics are the domain score, the number of backlinks, referring domains and the .edu and .gov links that refer to you.
And if you look further down on this overview you will see, among other things, which top pages per country score well. The overview on which keywords you score well is also interesting. Below you can see that making videos at WPjournalist is number 1 in the Google search results.

Site Audit
Another nice feature of Ubersuggest is the site audit. You can enter a domain name and then the tool analyzes how your website is doing with an SEO score. For example, WPjournalist scores well with 83 points.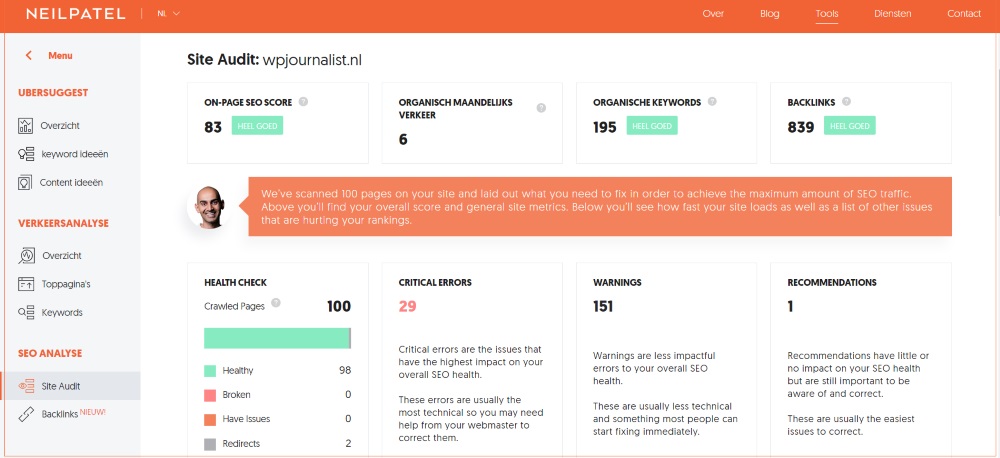 In the example above you see 29 critical errors, but these are mostly articles with too few words. So, nothing worrisome. In the site audit (you can't see that on the picture above…) you can also see how fast your website loads.
Backlinks
A third part in Ubersuggest is the SEO analysis, in which the backlinks are discussed in more detail. Backlinks are links that link from another website to your website.
The more backlinks of websites with a lot of authority, the more valuable Google considers your website. This way you'll get a good impression of all the backlinks and you'll be able to come up with a strategy to get even more and better backlinks.
SEO per article
Well, I've now explained to you how Ubersuggest works globally. But then how do you get started?
We will explain step by step how you approach the SEO for each article.
STEP 1: global keyword research.
It's a bit too much to do extensive research on your own, but the following methods will give you a good impression of how often a certain keyword combination is searched for.
Go to Ubersuggest and type in the keywords your article is about. For example, about 'live chat website'.
Pay special attention to two things:
At 'Search volume' you can see how many times a month this keyword is entered in search engines.
At 'SEO Difficulty' you can see how easy (green) or difficult (red) it is to get high in the search results.
So, in terms of SEO, this is a good subject to write about: it has a high search volume and low competition.
If the keyword combination scores badly, you can look at 'keyword ideas' to see if there are better alternatives. If they also score poorly, consider choosing different keywords and re-entering them in Ubersuggest.
STEP 2: writing the article
Write the article without thinking too much about the keywords. That only hinders the creative writing process 🙂.
When the article is ready in draft, you will make the article SEO-proof by including the keywords in the article.
At least in the header, the intro, a subheading and at the end of the article, you add the keywords. You don't have to use the exact same word order. You may also use articles and/or adjectives between the keywords.
This is the list of criteria on the basis of which search engines look for articles: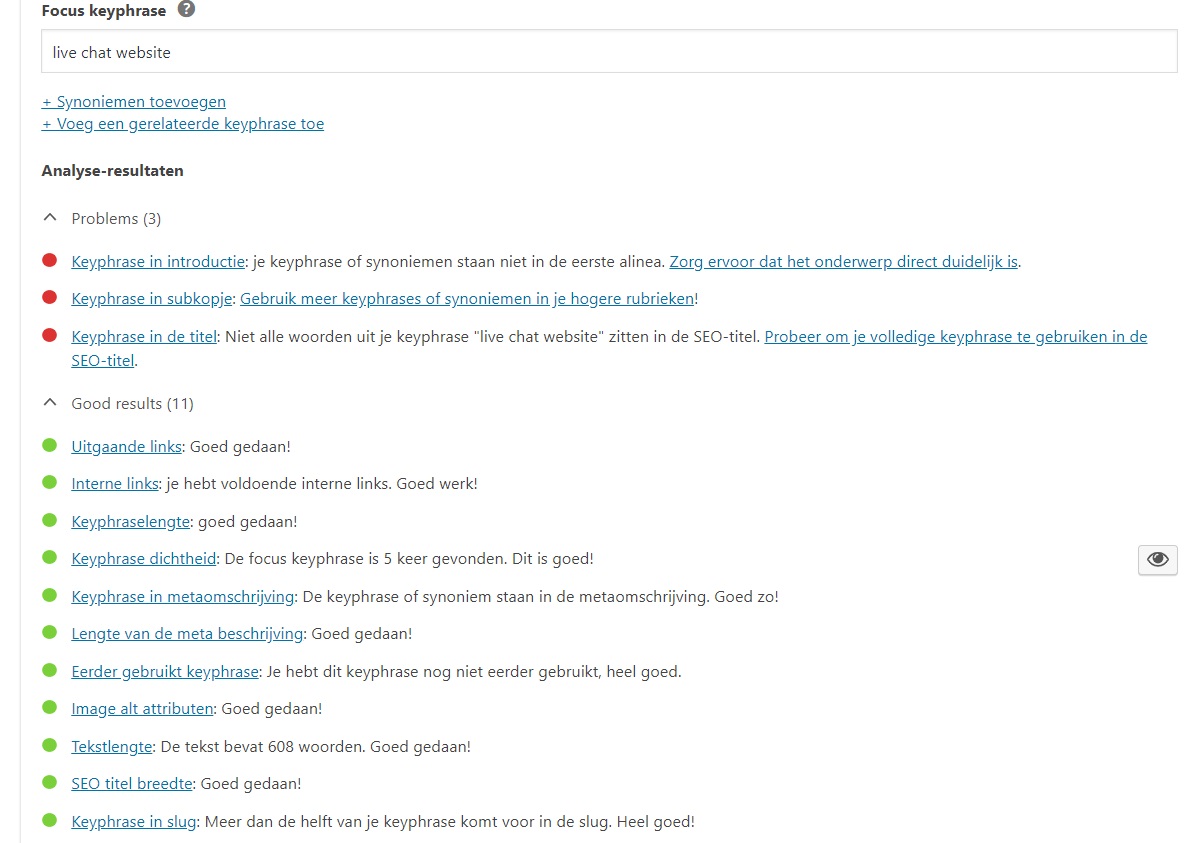 And here you can also see something about the readability of the text: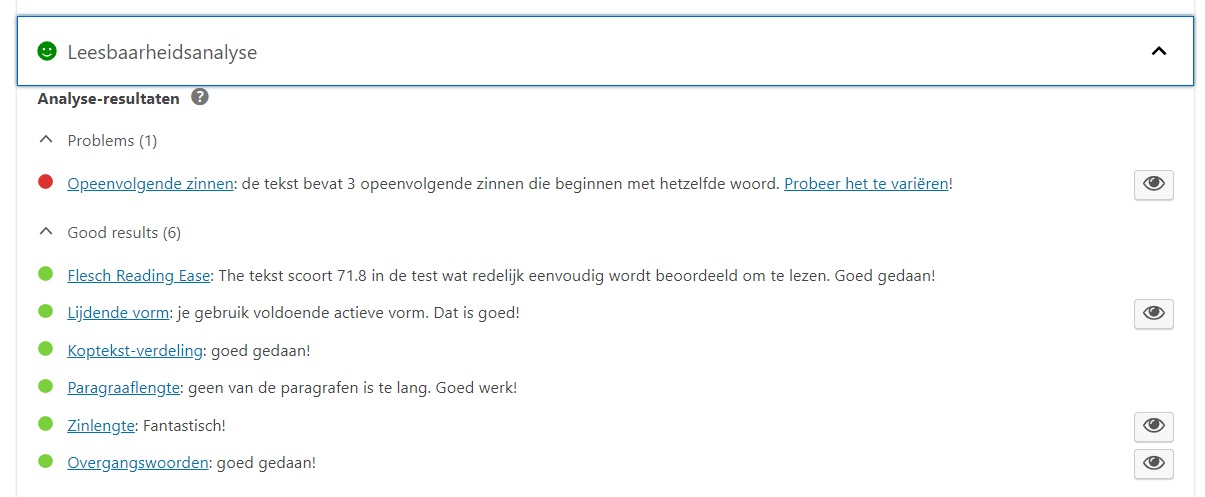 The above data is generated from a Yoast SEO plugin in WordPress. You can check these dots to improve your article.
SEO-proof
After you have made the text SEO-proof, create a 'meta description'. This is a piece of text that is visible in the search results of the search engine and represents the core of the article. Write the text in such a way that it is inviting to click through. And that it has the right length: 155/160 characters.
Internal links: search within the online Havenkrant for one or two other articles related to the subject and refer to them at the bottom of your article.
Also, include an external link to another website/page.
Then it goes to the editorial board and then it can be published.
STEP 3: after the article has been published…
'Spend 20 percent on writing the article and 80 percent on marketing', is a statement by SEO guru Neil Patel. A little exaggerated, but…
It is important that you share/distribute/link your own article. There is so much content being produced that the competition is fierce and thus there is a greater chance that your article will not be noticed. Here are three suggestions to make your article visible:
Try to get backlinks to the article you wrote. For example, you could ask the person/company you interviewed if they would like to put a link on their website to the article you wrote.
Each article is shared by the editors on the social media of de Havenkrant. You can also share your own articles written by yourself or share articles written by others via your own social media.
If applicable, keep your article up to date and keep updating it when new facts arise. For example, if you add a new paragraph to an article that's high in the search results, you're more likely for the article to hold that high position.
Conclusion
Ubersuggest has grown into a powerful online tool for keyword research. Of course, it can't compete with the paid tools yet, but for the starting SEO writer, it is an excellent tool, easy to use, free and well organized.
It is quite possible that the tool will get a paid version in the future. Often the strategy is aimed at attracting as many people as possible first and if the volume is large enough, you have to start paying for it.
Knowing Neil Patel, some of the features will remain free so that Ubersuggest remains accessible to everyone.
I now recommend everyone to use Ubersuggest. It prevents you from writing content on the wild web. It gives you a good insight into the subjects you can write about. In addition, you can monitor how your website is developing and where you can still optimize it.
Put some time and effort into it and try Ubersuggest…